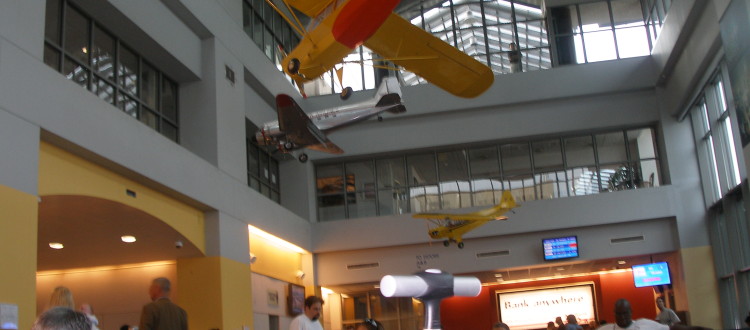 Westchester County Airport
Located in Westchester, White Plains Airport accommodates over 1 million passengers annually. U.S. Airways and Southwest Airlines are the two primary airlines that operate out of White Plains Airport, which is located 27 miles northeast of Manhattan. This local airport is often one of the overlooked means to make travel easier. While the selection maybe limited it is a great alternative to the congestion and problems of the major New York City airports.
Delta
N o n-S t o p D e s t i n a t i o n s
A i r l i n e s
Atlanta, GA (ATL)
 Delta
Charlotte, (CLT)
USAirways
Chicago, IL (ORD) O'Hare International
American
United

Detroit, MI (DTW)
Ft. Lauderdale, FL (FLL)
JetBlue Airways
Ft. Myers, FL (RSW)
JetBlue Airways
Lebannon, NH (LEB)
CapeAir
Nantucket, MA (ACK)
CapeAir
Nassau, Bahamas
JetBlue Airways
Martha's Vineyard, MA (MVY)
CapeAir
Orlando, Fl (MCO)
JetBlue Airways
Philadelphia, PA (PHL)
USAirways
Providence, MA
Cape Air
Tampa, Fl
JetBlue Airways
Washington, DC (DCA) (Reagan National )
USAirways
West Palm Beach, Fl (PBI)
JetBlue Airways
Our formula of the right service, the best vehicles and the latest technology not only deliver the best results with our customers but make us the best choice for your trip to Westchester County Airport (HPN) from anywhere in the Metropolitan New York City Area including Westchester, Rockland and Connecticut .
We provide the best service, the most value and an unsurpassed price. New York Finest Luxury Car Service has made it very easy for customers to book reservations both online through our website, our state of the art smart phone apps or over the phone to book your trip to and from Westchester County Airport (HPN). We provide a flat rate service to and from Westchester County Airport to simplify travel plans and for those special occasions we make the quote process simple for all airport travel. New York Finest Luxury Car Service combines excellent customer service, technology and the best vehicles to get you to where you need to go. Do you have an upcoming trip? Click here to reserve your trip and to also schedule your pick up on your return home from Westchester County Airport (HPN).